Needs and Vision
Environmental appreciation is fundamental to the small community of Redwood Shores, located next to the waterfront along the Belmont Slough of the San Francisco Bay. Lacking a library and community meeting space, and with a delicate wetlands site in mind, the City selected ABA to lead their effort of obtaining state funding. ABA's strategies and solutions created a tailor fit of library, community space and an educational center that teaches about the balance between community needs and environmental sensitivity.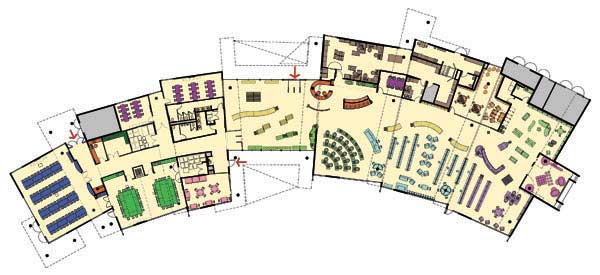 Green Systems
Protecting and Learning about the Delicate Bay Ecosystem
In the vein of slough preservation and conservation, the project was designed to exceed even the community's desires for sustainable design. Honoring the biodiversity of the bay wetlands, the Library sits on piers that minimize its impact to the delicate surroundings. From the under floor air distribution and natural daylight, to the specialized water treatment, water efficient fixtures, widely incorporated recycled and healthy building materials, and native landscaping, the Library incorporates multiple strategies of environmentally sustainable design. Although not submitted to the US Green Building Council rating system (USGBC), the City is publicizing the Library as its case study for development of citywide green design guidelines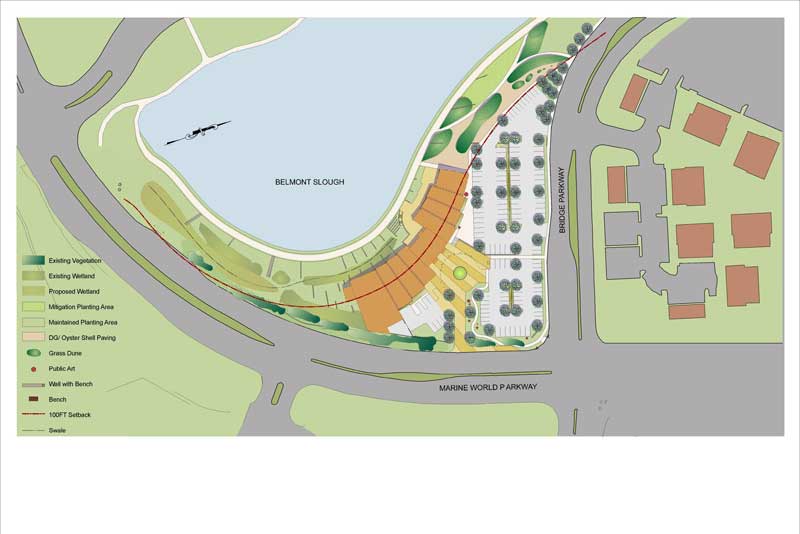 Wet Words
Sculpted to Meet the Water's Edge
Rethinking the fundamental purpose and functions of the library, the design addressed the assessed needs and included resource areas, a teen area, five community meeting rooms, technology center, and bookstore. Sculpted to meet the water edge, each room opens to large windows that maximize views. Interior furniture and finishes play on a nautical theme, using a marine-inspired color palette. A café that spills out onto a deck becomes the boardwalk access to the nature trail along the water. An Environmental Interpretive Center transforms book learning into observation and interaction with the natural habitat of the wetlands, the bay and slough wildlife.
Photographer: Dean J. Birinyi