Leveraging the successful outcome of the Performing Arts Center's Programming and Concept Design Phase, the Bogard- ABA team utilized the intrinsic efficiencies of design-build delivery to complete the design, obtain regulatory approval, and begin construction of the Performing Arts Center.
Throughout the design phases, the team provided unified project recommendations to the school, advised by ABA's specialized designers and Bogard's construction experience on campus. ABA maintained alignment with the budget due to collaboration with Bogard's ongoing cost modeling; ABA worked with the consultant team to design and document the building's specific components. Construction trade partners were brought on board early, providing a valuable source of design input and constructability review that further guided design development. This intentional collaboration translated into an effective process for project delivery that was efficient and served the school well.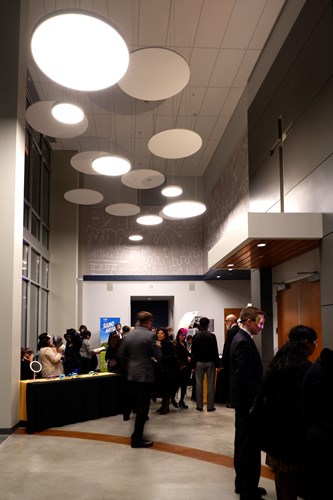 Working within the context of design build delivery did, however, present some constraints on the ABA design team. Prior to ABA's involvement, the DB contractor had predetermined the structural system. In addition, the MEP designers/subcontractors were pre-selected by the Design/ Builder and were directly under their contract. While ABA would typically select engineering consultants and work with the overall team to best evaluate options before selecting significant building systems. ABA proactively worked within the defined constraints and produced creative building solutions.
In construction, the early interaction with trade partners during the design phases paid off. Coordination of the construction trades was already occurring before construction began, and feedback that had been provided to the design team resulted in design detailing that related directly to the specific needs of the trades.