Hooray!
I am thrilled to announce that I recently embarked on a new challenge: Director of Strategic Planning + Health & Wellness Leader at Anderson Brulé Architects.
This move comes after an extensive career in health care consulting. Over the course of my professional life, my focus has ranged from pure strategic planning at academic medical centers (where I spent the most time) to M&A work, business development and executive coaching – all within the health care arena.
The Start of it All
"Say What?" was my response when, my now boss and former colleague, David O'Brien proclaimed he was leaving the Stanford School of Medicine, where he'd had a brilliant career as head of Strategic Planning for 30+ years, to lead strategy at a design firm. I mean, health care strategy and architecture? What is the connection?
Strategic Planning: The Why, the What, the How – but Where's the Where?
A small change at the beginning of the design process defines an entirely different product at the end.
Jonathan Ive, Chief Design Officer, Apple
A traditional strategic plan should (or will, if you engage me), address the questions "why", "what" and "how." Unfortunately, strategic plans too frequently stop short of addressing the "where," even though they often have real implications with regard to facilities and space. Aside from a cursory acknowledgment in the strategic plan, space issues are rarely fully addressed. Due to time and/or dollar constraints, most strategic planning engagements conclude with vague tactics like, "Explore the expansion of research space" or "Build a Neurosciences Center" rather than providing more comprehensive guidance about how to move from needing the space to actualizing it.
The result of this disconnect can be disastrous for strategic planning efforts in that, seemingly, insurmountable barriers (like, how to secure additional space when none exists), becomes the pretext for shelving strategic plans. Strategy implementation takes a lot of effort; the conflation of strategies with space needs can make the implementation exercise feel like a battle in futility.
Moreover, in traditional facilities planning, the absence of a strategic purpose on a project risks a design that fails to support the organization's vision. Too often we hear of new space that upon move-in is too small, constrains organizational growth, and limits strategic direction and innovation. The facility may utilize outdated technology or be in an area that does not align with the organization's long-term vision. Short-term savings realized from not extending strategic planning on into facilities planning can have huge cost, morale and strategic implications.
This phenomenon can be frustrating for an architect, as well as terribly demoralizing and disruptive for a strategic planner.
Anderson Brulé Architects (ABA) is the Answer
Recognizing the link between strategic planning and architecture, ABA has provided strategic planning services nearly since its inception 35 years ago. (ABA was disrupting the industry before "disruption" became a buzz word.) Having an in-house strategic planning team allows ABA to offer its clients planning support that includes the linkages between the "why" of an initiative and the "how" of facilities (with or without a follow-on design project). Siting strategic planning within an architectural firm provides a platform from which strategic plans are able to move down the continuum toward realization; they are able to, "go the last mile" to implementation and value realization.
In other words, ABA's collaborative, strategic design process incorporates an inclusive approach to articulating a vision and defining objectives based on the client's core values and needs. The interactive process works to strengthen and align clients' organizations and culture with their future building and facility needs. Plans move from the "why", "what" and "how" to include the "where."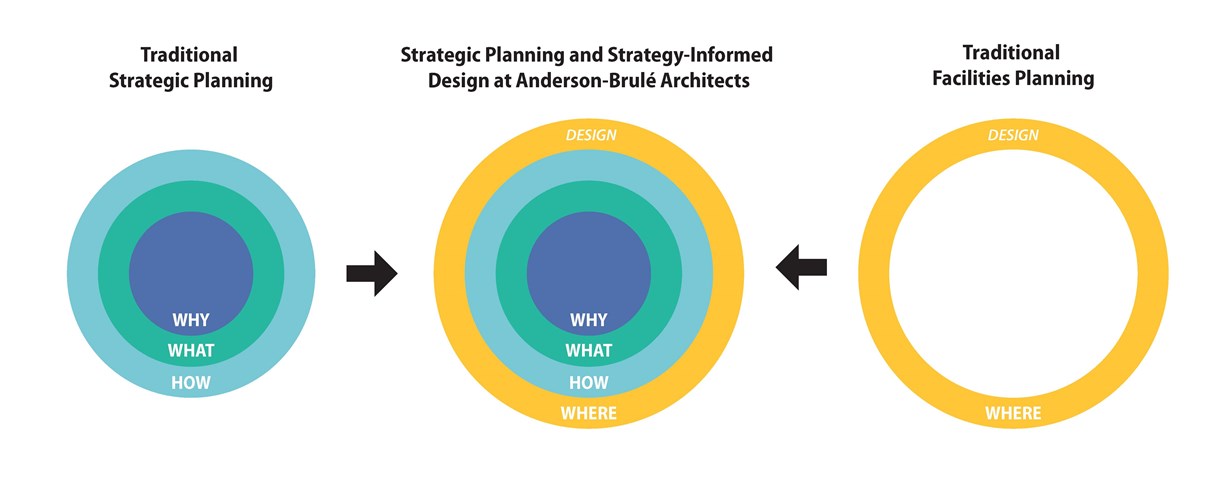 The upshot? In my new role, I can leverage my strong client development skills and apply my strategic planning acumen to health and wellness projects that are more likely to be successfully implemented. This is strategic planning nirvana.
Get in touch!
Interested to learn more about why I joined this award-winning firm, the ABA strategic design process, or just want to say hello? Send me a note at andreah@aba-arch.com. I would love to chat about planning, design, health care trends and where to find the best coffee in Silicon Valley.
Also, be sure to check us out at: http://aba-arch.com
Stay tuned for more thoughts on conquering "the last mile" in strategic planning.