Public Engagement Key to Planning and Designing New Community-Focused Library
Aptos, Calif., October 28, 2020 – Anderson Brulé Architects (ABA) and Bogard Construction (Bogard) are partnering as the design-build team recently selected by the Santa Cruz Public Library System and County of Santa Cruz for the $12.4M Aptos Branch Library project. As firms with deep experience in Santa Cruz and library design, ABA is creating the design while Bogard will handle demolition and new construction of the Aptos Branch Library for Santa Cruz Public Libraries.
"We have long had a solid partnership where open dialogue and clear communication is at the center of our trusted design-build relationship with Bogard," said ABA Co-Founder and President, Pamela Anderson-Brulé, FAIA. "And, we are thrilled to work with the County of Santa Cruz and its incredibly engaged and enthusiastic residents of Aptos. Through the discovery and outreach process, we were able to dive deep into creative thinking and deliver a design that speaks uniquely to Aptos – bringing forth a modern and striking 21st Century library that reflects Aptos' past and future."
The existing 8,000-square-foot Aptos Branch Library, built in 1975, stands on a site just over one acre. Demolition is expected in mid-2021, with the groundbreaking of the new library set to occur immediately thereafter. The decision to replace the library with a building reflective of 21st-century capabilities was prompted by the success of the 2016 Measure S Bond, community feedback, and the desire for an up-to-date facility that both serves as an engaging architectural focal point and accommodates new modern-day uses and programming. The new library will feature ample solar, large windows, gardens/terraces and flexible community rooms. The building will be prominently showcased on the corner location, acting as a "beacon" at night. It will over 50% larger than the current building and provide increased parking.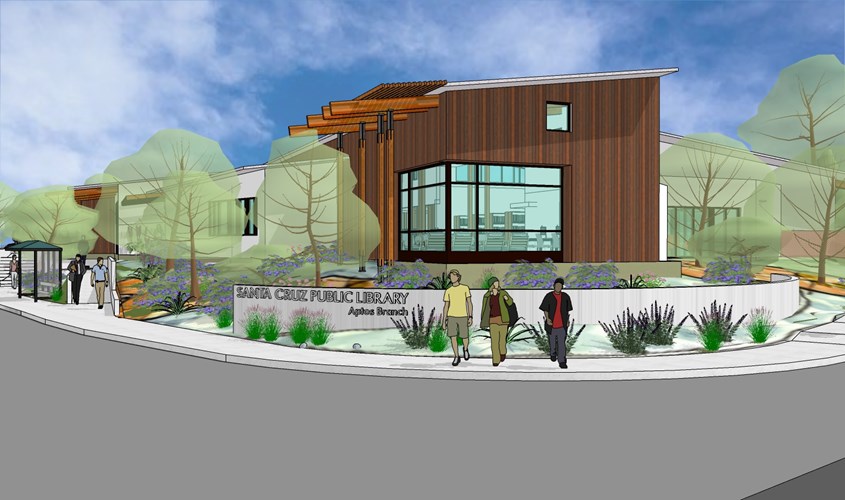 The Aptos Branch Library is being developed as a "net zero" structure and will produce as much energy as it uses over the course of a year. Furthermore, it will be designed to require just half the energy of a typical library, making it an extremely efficient building. The building's orientation will maximize sunlight not only for generating solar energy but for interior illumination. Skylights will minimize the need for artificial lighting, even in the most centrally located interior spaces. A small wind turbine will generate energy to supplement electricity from solar panels. In addition, drought tolerant landscaping will support low water usage and mitigate stormwater runoff and water will be filtered using bioswales.
"Backed by our history in Santa Cruz County, knowledge of construction, and extensive experience, Bogard Construction is excited to bring the new Aptos Branch Library to life," said Bogard Construction President Jared Bogaard. "We will be hard at work ensuring an efficient and safe building delivery process."
As part of the planning process, the project team held community meetings to help inform the design, and a virtual open house of the proposed new library occurred on October 5. Photo-like renderings and mock-ups, as well as details of this public event can be found here.
"We are proud of the architectural and schematic design work we have completed so far. We're even more gratified by our client's feedback — that we truly listened to them and delivered a design that exceeds expectations," said ABA Design Principal for Aptos Branch Library, Mark Schoeman AIA. "Our primary focus was on how the new building could better serve the community, including new considerations for a pandemic, such as Wi-Fi in the parking lots, gardens and terraces with flexible seating, and areas for socially distanced gathering."
The Bogard team is comprised of Jared Bogaard, Ryan Bogaard, Chip Bogaard, and Dave Sullivan. The ABA team includes Mark Schoeman, Pamela Anderson-Brulé, Angshupriya Pathak and interior designer Ashly Vineyard, who was raised in Aptos.
About Anderson Brulé Architects, Inc.
ABA was founded in 1984 in San Jose, bringing over three decades of experience and passion for architecture, innovation in design and a commitment to the transformation of the architectural profession. ABA provides a complete and comprehensive suite of services in strategic planning, architecture and interiors. ABA delivers client excellence on projects both in the large scale and mid-sized arena and operates within its primary markets of Community, Residential, Health and Wellness, and Education to create sustainable environmental models and spaces. To learn more about ABA, visit: http://aba-arch.com.
About Bogard Construction, Inc.
Bogard Construction was founded in Santa Cruz in 1947, by Victor Bogard, Sr. Currently owned and operated by third and fourth generation family members, Bogard provides General Contracting, Design/Build, Construction Management, and Project Management services throughout northern California. Bogard's experience extends across a wide array of project sizes and types - ranging from healthcare, multi-residential, churches, retail, schools, office buildings, libraries, and more. To learn more about Bogard Construction, visit www.bogardconstruction.com.
###
Media Contact:
Kara Schmiemann-McCoy / Melinda Hepp
Studio PR
570-441-4793 / 415-717-4624
kara@studiopr.com / melinda@studiopr.com