Aptos, Calif., June 15, 2022 – Anderson Brulé Architects(ABA), along with its design-build partner Bogard Construction, broke ground this week on the Santa Cruz Public Library System's (SCPL) new Aptos Branch Library. Following the demolition of the previous building, the reconstructed $12.4 million, 12,400-square foot library will provide Aptos with a refreshing, modern and sustainably designed facility. The ABA and Bogard project team has decades of experience in Santa Cruz County and in library design and construction.
"It became clear throughout our listening sessions that the community desired a library building that serves both people and place," said ABA Design Principal Mark Schoeman, AIA. "In replacing the original 1975 library, we designed a structure that is 30 percent larger yet has a minimal environmental impact — a 'net-zero' sanctuary that celebrates Aptos' natural resources in the context of its history and culture. The library's site offers ample opportunity to create a lively dialogue between interior and exterior spaces. Altogether, the blend of natural and built environments will create an inspiring library experience that encourages curiosity and human connections."
Guided by a vision for an up-to-date facility that supports modern functionality and technology, the design supports a variety of library and community programing while promoting occupant wellness and demonstrating responsible environmental stewardship. The Aptos branch will produce as much energy as it consumes and will require just half the energy of a typical library. This will be achieved by orienting the building to maximize sunlight not only for generating solar energy but also to illuminate interiors from large windows and skylights, minimizing the need for artificial lighting. The building will also feature a small wind turbine to supplement solar-generated electricity. Gardens and terraces with drought-tolerant landscaping and rainwater collection features will aid water conservation efforts.
"As a builder with over 75 years of experience in Santa Cruz-area construction, including nine other SCPL libraries, we are delighted to begin giving form to the vision of the Aptos community with our team of local project managers and subcontractors," said Jared Bogaard, president of Bogard Construction. "Entering this next phase of the design-build process, we will continue working closely with ABA and SCPL to ensure that everything goes seamlessly."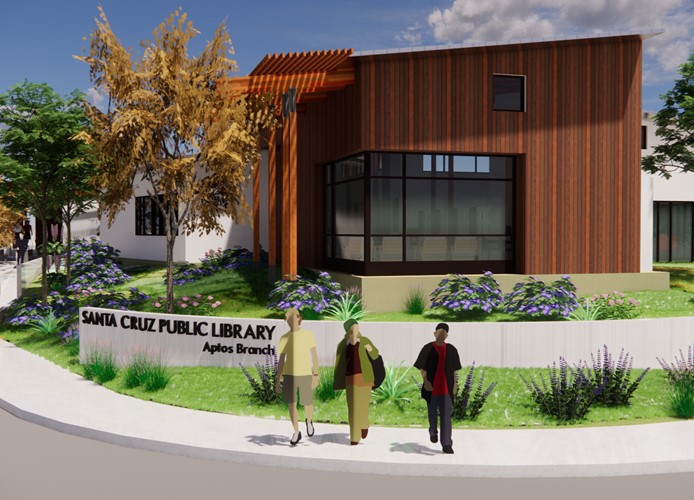 Given its prominent location in Aptos' Soquel Avenue corridor, the team understands the library's role as a community landmark. This is why the library experience begins with improved access via multiple modes of transportation, more parking, and lush, inviting landscapes that offer a variety of spaces for reading, playing, or simply enjoy moments of natural tranquility.
The new Aptos Branch Library was made possible by the 2016 passage of Measure S as well as by the Library Joint Powers Authority Board, the Library Advisory Commission and Friends of the Aptos Library. Photo-like renderings and mock-ups of the new library are available here.
"The County, the Library System and community are eagerly anticipating a fabulous new home not only for the books and digital offerings that will bring the new structure to life, but also for the rich programing it will provide our community," said Yolande Wilburn, director of Santa Cruz Public Libraries.
About Anderson Brulé Architects, Inc.
Since its founding in 1984, ABA has been committed to sustaining people and communities through architecture, interior design, and strategic planning that balances social, economic and environmental needs. The firm's portfolio spans projects in the community, educational, and healthcare sectors, and reflects the commitment of staff from offices in San Jose and Claremont to deliver enduring people-centered places imbued with purpose and meaning. To learn more, visit www.aba-arch.com.
About Bogard Construction, Inc.
Bogard Construction was founded in Santa Cruz in 1947, by Victor Bogard, Sr. Currently owned and operated by third- and fourth-generation family members, Bogard provides General Contracting, Design/Build, Construction Management and Project Management services throughout Northern California. Bogard's experience encompasses a wide array of project sizes and types — including multi-residential, healthcare, churches, retail, schools, office buildings, libraries and more. To learn more, visit www.bogardconstruction.com.