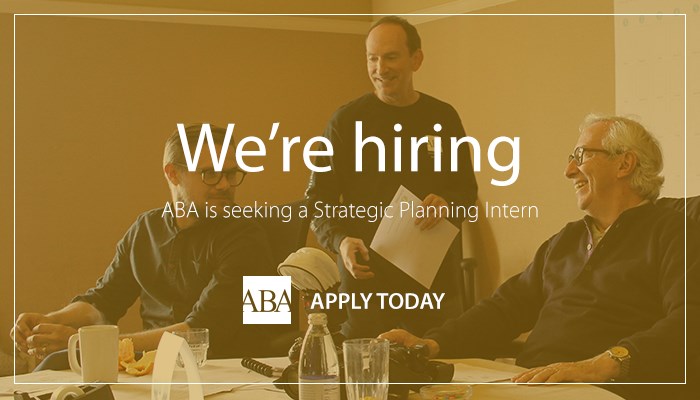 ABA is currently seeking an Intern – Strategic Planning to join our firm. ABA was recently recognized with the prestigious AIASCV Firm Award. This award honors an organization that has consistently produced distinguished architectural design for at least 20 years and has contributed to the advancement of the profession. Candidates should demonstrate a proactive ability to take initial direction and execute. A positive attitude is a must. We are a strong team and only look to add hard-working, motivated, and personable individuals to our great culture.

Anderson Brulé Architects is a thriving and successful architecture, planning and interior design firm, with over 30 years of experience. We offer a full line of services in strategic planning, architecture, urban planning and interior design. ABA is committed to assisting clients in improving their own culture, environment, operation, function and organization through the realization of their organizational needs in architectural spaces while maintaining a high quality of service. ABA's projects fall into four markets: educational, civic, medical to custom residential. The scope of services we offer ranges from
pre-project planning through post-occupancy evaluations.
You will be providing assistance with urban design and site planning, provide technical assistance on topics related to planning/zoning/environmental concerns, attend planning commission meetings for Federal, State, local and private agencies. Assist with vision and strategic plan development, service and operational planning and programming, development of design in alignment to strategy. Education/Health & Wellness/Community markets.
This position will report to Director of Strategic Planning.
You will work with the Planning team to:
Construct and Maintain an X-Plan
Schedule & coordinate key project meetings
Define program quality & efficiency metrics
Design survey & gathering methods
Conduct data gathering & analyze
Conduct post-occupancy surveys, data gathering, assessments, analysis and reporting
Prepare draft progress/status reports for Director to review
Assist with Business Development for proposals
You will be expected to:
Create user tests
Attend user meetings and take detailed notes
Accurately construct and maintain a comprehensive resource-loaded project schedule/management tool for planning projects.
Qualifications:
Bachelor's degree (or higher) in Construction Management, Project Management, Architecture or equivalent training. Junior or Senior level candidates will also be considered.
2-3 years project-based & team-based experience (construction, design, planning)
Proficiency in Planning/Project applications, such as MS Project or similar application
Excellent oral, written and communication skills
Must know MS office applications, specifically, Word, Excel, PowerPoint, Outlook
ABA is an equal opportunity employer M/F/D/V.
Please submit resume, cover letter, portfolio samples and salary requirements to hr@aba-arch.com or submit directly through our website.