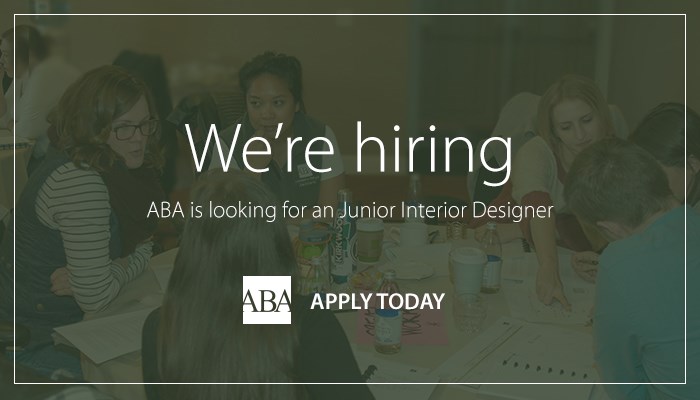 Looking to design your career and apply your passion to making positive differences in your community? ABA is currently seeking a Junior Interior Designer to join our firm. Candidates should demonstrate an understanding of architectural practice including conceptual design, schematic design, design development, and construction administration. As such we are looking for candidates with a degree in either Interior Design, Interior Architecture or Architecture and a minimum of 1 year of experience working in a commercial Interior or Architectural Design Firm.
Anderson Brulé Architects is a thriving and successful architecture, strategic planning and interior design firm, with over 30 years of experience. ABA is committed to assisting clients to improve their own culture, environment, operation, function, and organization through the realization and translation of their organizational needs into architectural space while maintaining a high quality of service. ABA was recently recognized with the prestigious AIASCV Firm Award for 2016. This award honors an organization that has consistently produced distinguished architectural design for at least 20 years and has contributed to the advancement of the profession. ABA's projects fall into three markets: education, civic/community and health and wellness. The scope of services we offer ranges from pre-project planning through post-occupancy evaluations and everything in-between.
Candidates will be expected to:
Work with Project team to develop and implement design concepts in form, space, and the selection/layout/configuration of FF&E.
Must be able to multitask effectively.
Assist with creation of a presentation which demonstrates proposed design concepts to the client.
Create technically sound and accurate Contract Documents with guidance.
Cartoon/sketch a set of drawings and/or presentations for review by project team prior to implementation.
Research relevant building codes and standards.
Assist with development and assembly of construction documents with all team members including consultants.
Contribute to sustainable dialogues and design development

The ideal candidate must be highly motivated and have:
Integrity and a positive attitude
Proactive ability to take initial direction and execute
Minimum of 1 year of experience working on commercial Interior Design/Architectural projects at a firm.
Strong design ability with an eye for details
Interest of design beyond finishes and furnishings
Experience using Revit to model architectural features. (Production of construction documentation that has gone through the building permit process a plus) (The ability to generate renderings from a Revit model is a plus)
A BA/BS/BFA in Interior Design or Architecture from a 4/5 year
Demonstrated ability to generate design presentation at various levels of design completion. Examples of such presentations may be conceptual, space plan, schematic design and design development presentations
Desire to be earn LEED Accreditation or WELL Accreditation
Demonstrated proficiency in Photoshop, Illustrator, InDesign and Microsoft Office.
Preparing to take the NCIDQ is preferred.

ABA is an equal opportunity employer M/F/D/V.
Please submit resume, cover letter and salary requirements to hr@aba-arch.com or submit directly through our website.