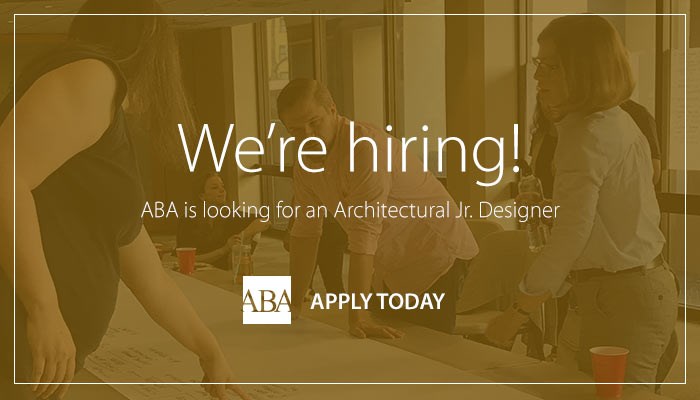 Looking to design your career and apply your passion to making positive differences in your community? If so, Anderson Brulé Architects, recently selected as the Firm of the Year by the AIA Santa Clara Valley, is currently seeking an Architectural Jr. Designer to join our firm. Candidates should demonstrate a proactive ability to take initial direction and execute. A positive attitude is a must. Candidates should demonstrate a basic understanding of architectural practice including conceptual design, schematic design, design development, construction documents, and construction administration. As such we are looking for candidates with a degree in Architecture and a minimum of 1 year of experience working in an Architectural Design Firm.
ABA is a thriving and successful architecture, strategic planning and interior design firm – delivering the highest quality services for over 30 years. ABA is committed to assisting clients to improve their own culture, environment, and organization. Our motto: Do Good, Exceptionally Well, by Design – means we see our services to our community, health and wellness, education and residential clients as fundamental to making our world better.
You will be exposed to the daily processes involved in running an architectural/design office which may include:
Client relations and business development
Research, feasibility studies and preparation of reports
Collaboration with consultants
Design and presentation
Detailing and coordination
Construction Documentation
Construction Administration
You should possess:
Revit/AutoCAD skills
Proficiency in MS Office, including Word, Excel, Outlook and PowerPoint
Experience with Photoshop, Illustrator, SketchUp and InDesign
Basic knowledge about sustainability, integrated design and LEED guidelines
Excellent oral and written communication skills
Desire to work in a team environment
The ideal candidate must have integrity, be highly motivated, strong design ability and interest in being involved in all areas of an architectural practice. Candidate must have recently graduated with a BA/BS in Architecture from a 4/5 year program or a Masters of Architecture with an accredited university.
ABA is an equal opportunity employer M/F/D/V.
Please submit resume, cover letter and portfolio sample to hr@aba-arch.com or submit directly through our website.