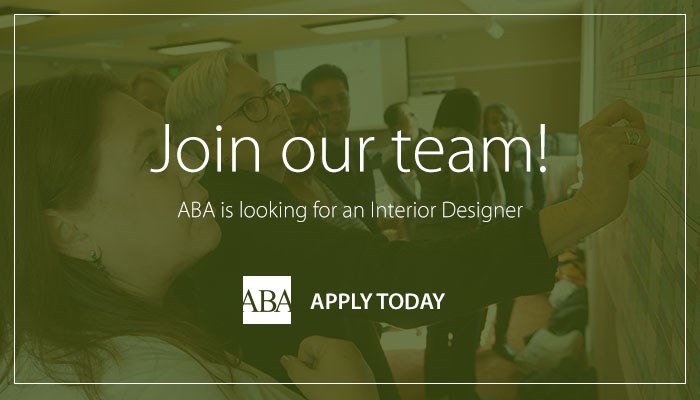 Looking to design your career and apply your passion to making positive differences in your community? ABA is currently seeking an Interior Designer to join our firm.Candidates should demonstrate a proactive ability to take initial direction and execute. A positive attitude is a must. We are a strong team and only look to add hard-working, motivated, and personable individuals to our great culture.
Anderson Brulé Architects is a thriving and successful architecture, strategic planning and interior design firm, with over 30 years of experience. ABA is committed to assisting clients to improve their own culture, environment, operation, function, and organization through the realization and translation of their organizational needs into architectural space while maintaining a high quality of service. ABA was recently recognized with the prestigious AIASCV Firm Award for 2016. This award honors an organization that has consistently produced distinguished architectural design for at least 20 years and has contributed to the advancement of the profession. ABA's projects fall into three markets: education, civic/community and health and wellness. The scope of services we offer ranges from pre-project planning through post-occupancy evaluations and everything in-between.
You will be exposed to the daily processes involved in running an architectural/design office which may include:
Resource library updates and organization
Assisting in client presentations
Correspondence with materials representatives
Sample ordering
Participating with design/architectural teams
Assisting Senior Designers and Architectural Staff
General Office assistance
You should be able to:
Excellent oral and written communication skills
Experience with Microsoft Office, Revit, and Adobe Creative Suite
Have a professional appearance
Be a team player
Education and experience requirements are:
Bachelor's degree in Interior Design from accredited program (certificate will be considered)
LEED or WELL accreditation is a plus
3-5 years of related experience in at least one of our three markets
Your responsibilities as an Interior Designer will be to:
Collaborate with lead desirer/architect to advance a design
Model existing conditions in Revit
Model proposed design elements in Revit
Create design options for consideration by project team
Create design presentations starting with a Concept and demonstrating how that concept is applied to the proposed design
Assist in the production of construction documentation
ABA is an equal opportunity employer M/F/D/V.
Please submit resume, cover letter, portfolio samples and salary requirements to hr@aba-arch.com or submit directly through our website.