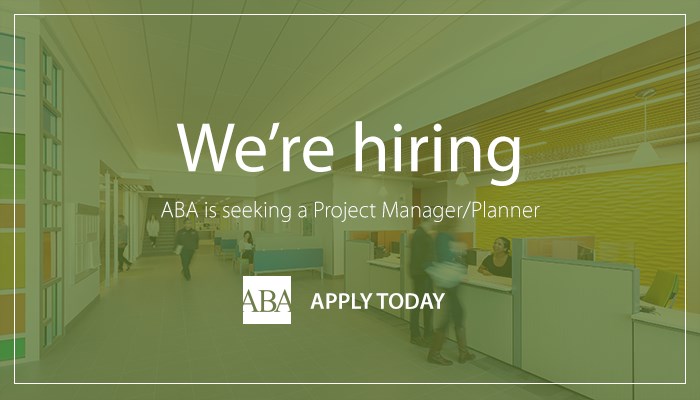 Anderson Brulé Architects is seeking a Project Manager/Planner with a professional interest in Master Planning, Urban Planning and Project Management.
ABA is a thriving and successful architecture, strategic planning and interior design firm – delivering the highest quality services for over 30 years. ABA is committed to assisting clients to improve their own culture, environment, and organization. Our motto:Do Good, Exceptionally Well, by Design – means we see our services to our community, health and wellness, education and residential clients as fundamental to making our world better.
As an integral member of the ABA Strategic Planning Services team, you will use process planning, design, and analysis skills on a wide variety of strategic and planning projects.
Primary roles and responsibilities of this position will include:
Focus on community/health & wellness/education projects
Development of plans and planning studies.
Design and implementation of project outreach and engagement activities.
Lead project background research.
Manage the development, synthesis and documentation of project work products.
Establish project scope, budget and schedules.
Develop exceptional and effective relationships with client managers and project staff.
The Project Planner will be expected to possess that following qualifications:
Possession of a Master's degree in Planning, Urban Planning, Master Planning, Architecture, Project Management, Business Management or related fields.
Project-based work experience in master planning, civic/community planning, or related planning areas.
Knowledge of principles and practices of planning and urban planning, CEQA, historical preservation programs, and statistics and mathematics.
Proven Strategic and Conceptual Thinking skills.
Experience working with Microsoft Office tools, project management software, and document editing tools.
Excellent written and oral communications skills.
Excellent interpersonal skills.
Basic Revit and InDesign skills would be a plus.
ABA is an equal opportunity employer M/F/D/V.
Please submit resume, cover letter, portfolio samples and salary requirements to hr@aba-arch.com or submit directly through our website.