Written by: Pamela Anderson-Brulé, FAIA
---
I have spent over 30 years working with librarians that have led their own transformation and I am amazed how they have 'risen to the call' to broaden their skills to serve the community in an entirely profound way. Their leadership in using powerful data to show compelling reasons that libraries impact and improve their communities have allowed them to inspire communities to invest in new libraries and services. Their dedication and passion to serve the community with what is most needed are why I have spent a career learning all that I can about what is important to librarians and what I can do to design places that support their success.

The following is the first in a 3-part series to share what others are doing to respond to the pandemic and to continue delivery of service, what architects can do to support librarian's success and considerations to plan for the future. This series will cover:
Part 3: Spaces & Experiences
---
Part 1: Services & Programs
More than ever our communities need libraries and, very importantly, librarians and their staff.
Prior to the pandemic, libraries worked to bring their communities together, moving their primary focus from books to people.
Librarians have learned to ask, "What are my communities greatest needs?" and then transformed to find ways for libraries to be responsive to meeting those needs. This is the case in the current pandemic.
Librarians have revolutionized their services, programs, operations, protocols, spaces and experiences to meet the needs of an ever divided and challenged world. But now during the pandemic, when they are needed most, how are they, once again, being called upon to transform to meet our new world challenges? How are librarians and staff being asked to perform this amazing transformation while creating healing and safe environments for themselves? Librarians and staff have little choice as their administrations announce their position on re-opening. They are being called back to service – We are asking, Are they prepared?
Coming Together to Learn
ABA is exploring design changes for pandemic conditions and the evolving new normal, as well as addressing critical issues of continuing pubic process for communities and stakeholders during social distancing. In early June 2020, ABA, as a national leader in library strategic planning, architectural and interior design, brought together library leaders from across the country. We discussed the immediate questions and issues for reopening public libraries and the longer-term effects of the pandemic on communities, the public and libraries.
We took the opportunity to create a Think Tank to learn together and develop immediate responses to services, programs, operations, space and function, as well as long-term considerations and design implications. The key purpose and goals were to:
Focus on key questions and mutual learning
Gain insight into library's biggest challenges in the pandemic era
Share findings and resources
Working together, the Think Tank was able to share new resources and information, create a shared understanding of key challenges and potential solutions, expand a network of informed librarians and designers, and develop an open source of materials to share with the library and design community.
This blog is a direct result of those goals and is to help the design and library communities navigate these very uncharted waters.
Service & Programs
Equity and inclusion – Libraries have struggled to close the digital divide and to reach the most vulnerable in the population. Now that libraries have been challenged with closed facilities, they are skillfully shifting to become a community 'hot spot,' providing powerful, free Wi-Fi with a bandwidth extending well beyond the facades of their facilities. Schools are working toward the same goals. Schools and libraries have become perfect partners in connecting people that are isolated and unable to afford services. Chromebook check outs make it possible for customers to sit in their cars, or exterior spaces near hot spots, and have access to all that the internet offers including on-line support, job search, entertainment and education.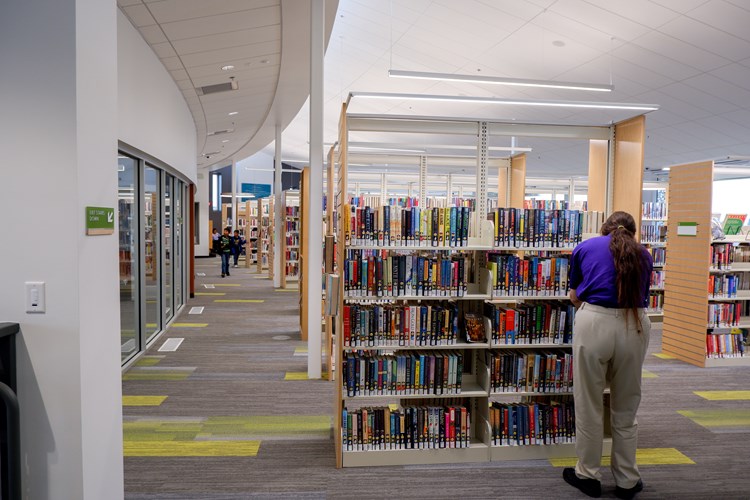 When considering the greatest needs in your communities, many organizations and non-profits have made it their primary business objective to serve the neediest of populations. Libraries are creatively forming partnerships with these organizations and distributing materials through these organizations. Using partner organizations as a catalyst for change and to improve services reduces the demand on the library staff and budget and increases the effectiveness of helping those in need. Virginia Beach Public Library, Teen Services Coordinator, James Giangregorio, has developed a program for Grab and Go Kits that contain snacks and activities for stay at home teens to be distributed through a local non-profit that works with under privileged teens.
Doing more with fewer staff – As the pandemic surges across the country, public services are re-considering opening and as hard-hit local economies are shrinking budgets, staff lay-offs are imminent. As libraries scramble to reinvent their service models, library staff are stretched into new roles. At the same time Shelter in Place orders have caused library card applications to soar and increased demand for services with increased customer volume.
The City of Irving, Texas, Library Director Cary Ann Siegfried, explains that curb-side pick-up has been a great success for their libraries. However, the time that customers used to take to gather their books and do self-check has shifted to the library staff who select, check out and prepare curb-side pick-ups. This increased labor demand is difficult to sustain over long periods of time and re-thinking library browsing and check-out will be an important next step. Libraries are considering scheduled openings, allowing only limited patrons to enter in a set period in order to maintain safe social distancing. Then sterilizing the library before the next scheduled group enters. Others are limiting the number of patrons at any one time, counting individuals as they enter and exit. Browsing at safe social distances and placing all browsed materials in bins to be quarantined prior to re-shelving would allow customers to have a more typical experience including self-select and self-check-out.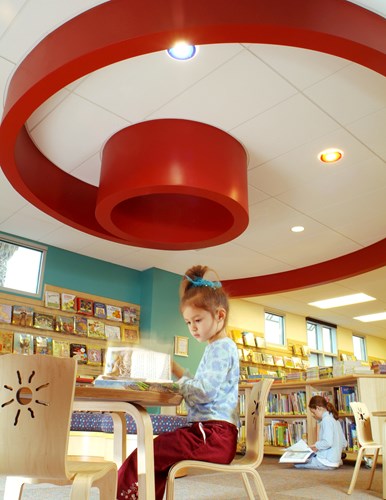 Programs anywhere - One of the more complex topics is how to deliver children's library services and programs during the pandemic. For years, libraries have invested considerable effort developing and considering on-line children's programs, yet not moving forward with implementation. Then suddenly the pandemic forced their hand. In the City of Ontario's Library, and others across the nation, clever and skilled children's librarians have used on-line web meeting apps to conduct hugely successful children's programs. Proving that "just doing it" can be a fruitful way to implement.
As schools consider opening and developing safety strategies such as pods where small groups of children create a pod that can safely interact, libraries are considering rearranging the children's library areas into zones. Families could come in, use social distancing and masks, and be able to use their 'zone' for a period of time while other families are in other zones. Outside library programs are also being considered with good social distancing and safety measures where children's programs can continue with limited staff.
Key Takeaways
Librarians are being called to take on new and expanded roles in our community libraries, concurrent with staffing reductions and budget cuts. Looking at staff efficiencies, embracing opportunities for work from home and hybrid work options, potential school and non-profit partners, and alternate program models are the vision of the future.
In my next post we will review the considerations in Operations & Protocols which may make library openings more viable.