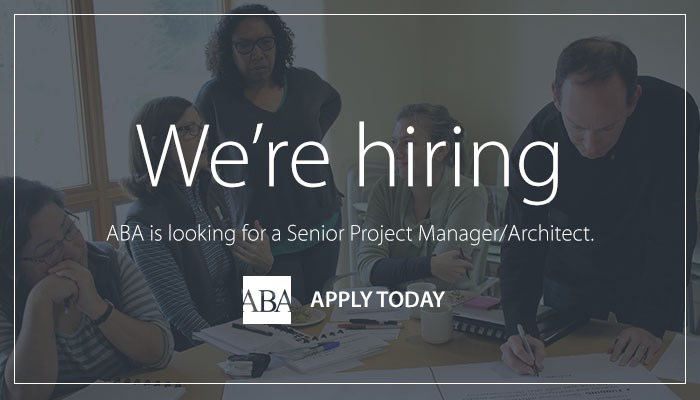 Anderson Brulé Architects is currently seeking a Senior Project Manager/Architect to join our firm. Candidates should demonstrate a proactive ability to take initial direction and execute. A positive attitude is a must. We are a strong team and only look to add hard-working, motivated, and personable individuals to our great culture.
ABA is a thriving, creative and successful architecture, planning and interior design firm – delivering the highest quality services for over 30 years. ABA was recently recognized with the prestigious AIASCV Firm Award for 2016. This award honors an organization that has consistently produced distinguished architectural design for at least 20 years and has contributed to the advancement of the profession. The scope of services we offer ranges from pre-project planning through post-occupancy evaluations. ABA is committed to assisting clients in improving their own culture, environment, operation, function and organization. Our motto: Do Good, Exceptionally Well, by Design – means we see our services to our community, health and wellness, education and residential clients as fundamental to making our world better.
Your key responsibilities and opportunities to learn the daily processes involved in running an architectural/design office which may include:
Business Development
Meet with potential clients and have ability to determine client needs, draft fee proposals, coordinate creative solutions, and transform leads into project opportunities through proactive business development follow up measures
Maintain existing client relationships while developing new ones
Technical
Research, preparation of feasibility studies, master plans, and preparation of reports.
Responsible for setting project goals, budgets and schedules
Collaboration with consultants
Perform preplanning through construction administration services
Knowledge of working drawings, building codes, construction standards and specifications.
Practice Leadership
Lead design efforts and direct staff production to effectively meet client goals, budgets and deadlines
Develop and maintain knowledge of industry trends, products, installation types
Responsible for communication with other disciplines, vendors, and contractors to ensure incorporation of all information into project requirements and provide support as necessary
Provide support/mentoring to all team members for specific field, style, or phase of architectural expertise
Education and experience requirements are:
Licensed Architect in California
LEED accreditation is desired
10+ years of architectural experience with recent experience in Healthcare Market, both acute and outpatient. OSHPD experience is important. Experience in each of our other three markets professionally is a plus
3-5 years of related experience in Project Management
Revit/AutoCAD and MS Office proficiency
Basic knowledge about sustainability, integrated design and LEED guidelines
Ability to prioritize work load, multi-task between projects and maintain organization in a changing environment
Working knowledge of building codes and other regulatory requirements
Advanced knowledge of design techniques, tools, and principles involved in production of technical plans, blueprints, drawings, and models
Proven ability to meet deadlines, adhere to budgetary goals and provide high quality service to clients
Excellent oral, written and presentation communication skills
ABA is an equal opportunity employer M/F/D/V.
Please submit resume, cover letter, portfolio samples and salary requirements to hr@aba-arch.com or submit directly through our website.