The City of Salinas opened their doors in February 2020 to its new El Gabilan Library, replacing an ageing and undersized branch constructed in the early 1960's. The library is now an enduring community place that will anchor the northern Salinas neighborhood and meet the needs of their growing City.
El Gabilan Library project design is rooted in the Needs Assessment process which included extensive Community Outreach and Participation. From the Needs Assessment, ABA analyzed the community input received to inform the building architecture and space program. The 20,800 sf facility includes children, teen, and adult collections, along with a collaborative makerspace, digital studio, study rooms, internet café, and flexible community room. Welcoming outdoor spaces feature reading patios, lounging decks and interactive-learning children's garden.
With the outreach from community and stakeholders, ABA created a vision for the project:
"El Gabilan Branch Library will be a safe, accessible and inclusive community place for all ages. It will promote curiosity and provide limitless possibilities with an innovative approach to life-long learning."
With vision and program in mind, the design team developed the aesthetic quality and design of the building.
The library's curved form sweeps the site and embraces the community. Clean and classic exterior materials allow the building to shine, which becomes a lantern at night -- shining brightly and drawing people to the site. Custom, vertical, shade fins were created with a laser-cut perforated pattern inspired by satellite imagery of Salinas' agricultural quilt work.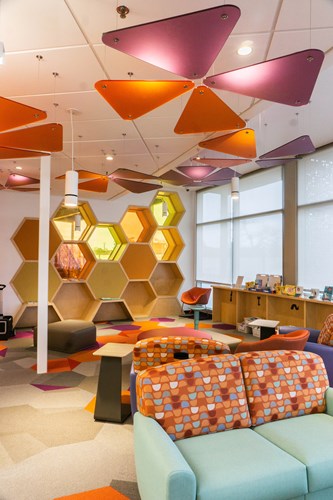 A playful and colorful interior was designed around the heritage of Salinas with a focus on cultivation and the future of technology, agriculture, and the backbone of science and creativity. The children's area was inspired by the elements needed for successful cultivation which include sunlight, water, healthy soil and pollinators. A 'honeycomb' wall feature in the children's area was inspired by bees and how important the pollinators are to the eco-system. The honeycomb shape is echoed throughout the first floor. The design and construction of the honeycomb wall was a collaboration between the interior designer, architects, structural engineer, building envelope consultants and construction team. Swinerton and ABA coordinated with the structural engineers and the building envelope consultants to successfully fabricate the hone
The City selected a Development Team which included ABA and was a Public-Private Partnership (P3) project. ABA provided leadership to the project throughout a complex development program with numerous stakeholders and provided design and construction administration services.




Project Partners
Public Partner/Tenant: City of Salinas
Finance Partner: Public Facilities Group
Developer: Griffin Structures
Architect: Anderson Brulé Architects
General Contractor: Swinerton Builders