Individuals with intellectual and developmental disabilities (I/DD) have the same right to safe, accessible, and affordable housing as anyone else. However, the process of planning and designing housing for this population can be complex and challenging. At the 2022 SFASA-Stanford Adult Autism Conference, I presented what ABA has found to be best practices for this work by using two in-progress projects as case studies for the development framework of I/DD housing: a group home for teens with I/DD in Watsonville and an I/DD intentional community in Portola Valley.
The development framework for I/DD Housing consists of several steps. The first is to identify the specific demographics and service population. For I/DD housing, it's especially important to understand individual, community, and neighborhood needs – context is just as important as the housing itself. The second step to consider is understanding the "Why" of the project – what the future desired state of a development could be and what strategies would best facilitate accomplishing these goals. Third, it's vital to understand how services are delivered to residents. Whether developing an ADU, a group home, or a larger community, services are a vital component to I/DD users. Questions to ask may include: How well can residents cook for themselves? What safety concerns do we have when our residents are home alone? What are meaningful ways our residents will spend their leisure time? How well can our residents navigate the community on their own? These answers lead to the next critical decision, centered around the key question of who will provide support and how much of the support will be provided in-house versus contracted out. This raises a number of related questions that need to be answered, such as:
How many people need to be hired (and in what specialties)?
What is the cost or rate of the program?
What permits, licenses, and/or training are needed?
Community Care Licensing Regulations for Residential provide answers to some of these questions – though there are still different regulations for Child Care, Family Child Care, Home Care Services. This shows the complexity and many facets of licensing.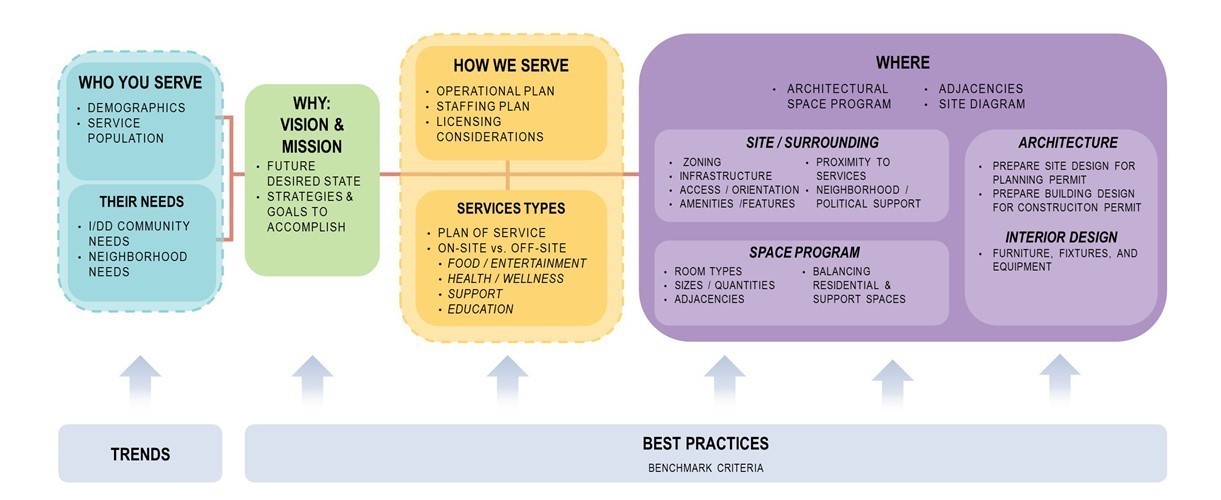 Only once the Who, Why, and How are understood should the Where be considered. The demographics and service population will help to determine appropriate sizing of a property. Zoning regulations, access to infrastructure, and proximity of services may limit service population. Understanding the future desired state in the Why can help determine specific neighborhoods and local amenities. Operational and staffing plans may necessitate on-site staff residences, which further zoning regulations could help accomplish.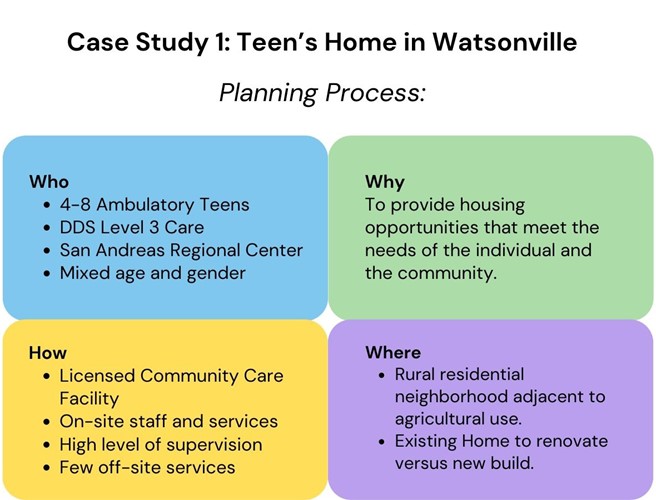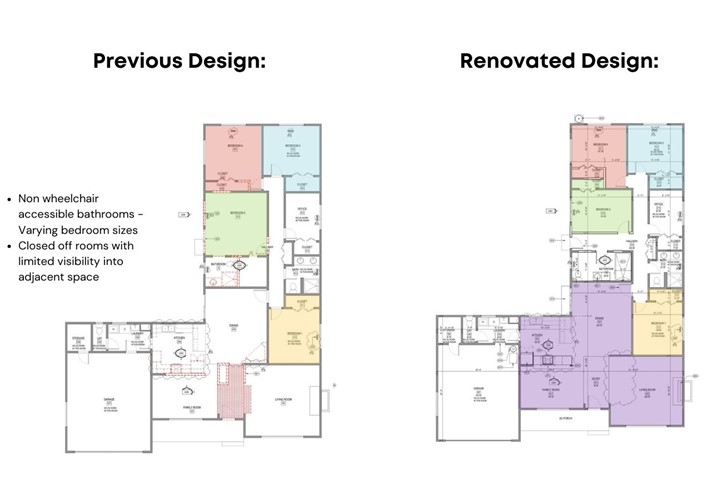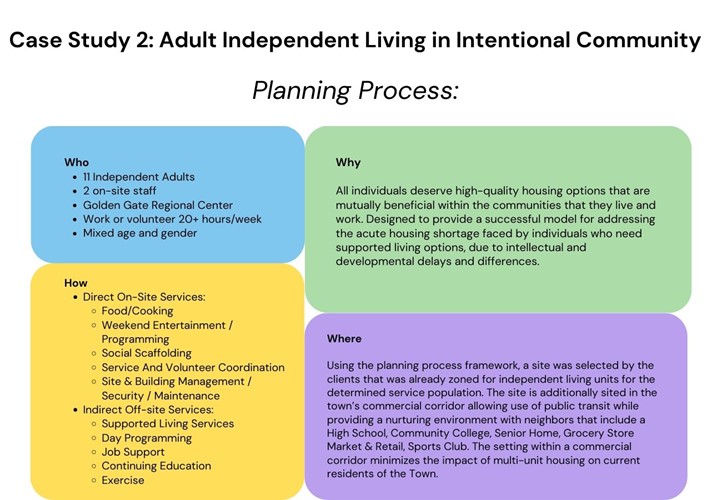 Design Process
With a site selected, the first step in the design process was understanding the opportunities and challenges specific to I/DD Housing. The site is located in the warm, marine climate of the Northern California inland coastal region. The buildings are sited to optimize the passive benefits of daylighting, solar control, natural ventilation and cooling, and outdoor living. Due to the possible sensory sensitivity of residents, climate control and comfort are critical aspects of the design that can be achieved through optimal solar orientation and daylighting strategies, solar control, natural ventilation and cooling utilizing the site's prevailing winds, and maintenance of the existing landscape for outdoor living opportunities.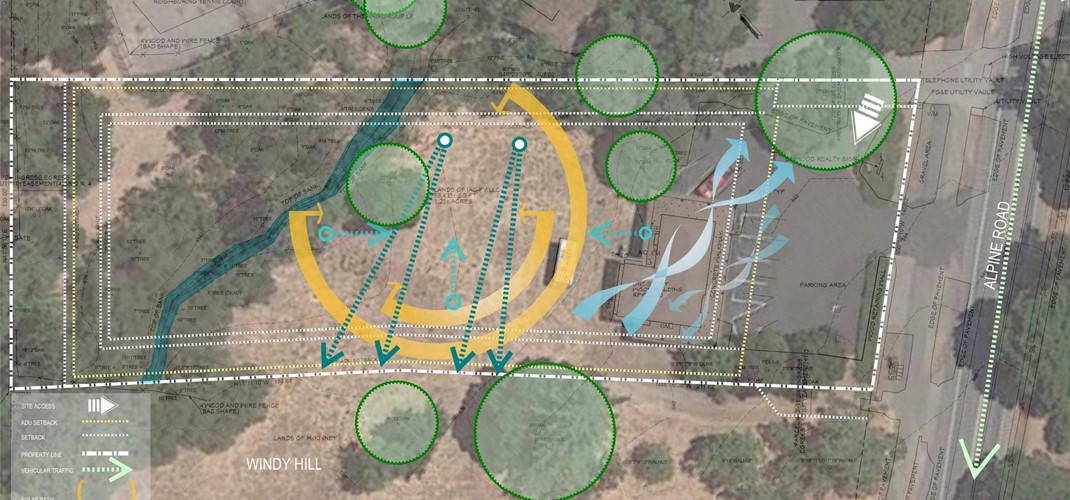 Concurrently with the site analysis, ABA iterated a modular unit concept with the client that would serve as the uniform independent living unit for all residents, creating equality between units but also serving as an efficient way to scale a development to the required unit count. The size of the units is intentionally smaller – large enough for residents to have a space that is all their own but not so large that they would prefer spending all their time inside rather than interacting with their neighbors. This is important as research shows that adults with I/DD who do not have adequate social interactions become isolated with higher risks of depression, obesity, and additional health concerns.

To further facilitate social activity between residents, creating common spaces proved critical to the design of the project. Residents would enter the site through a single, common entrance to a building housing a staff office, allowing for eyes on residents for safety and social interaction as they come and go. This common building was designed with a communal kitchen, dining and lounging areas where residents can prepare and share meals and interact with one another. A multipurpose room was included for hosting exercise classes, movie nights or other activities that the residents and staff initiate. A vocational training area was additionally included in the design where residents will have the opportunity to interact with the broader neighborhood community while developing customer service and other occupational skills. Iterating through site configurations helped optimize the balance between providing for the needs of I/DD residents and preserving/enhancing the native ecosystems and habitats of the site and region.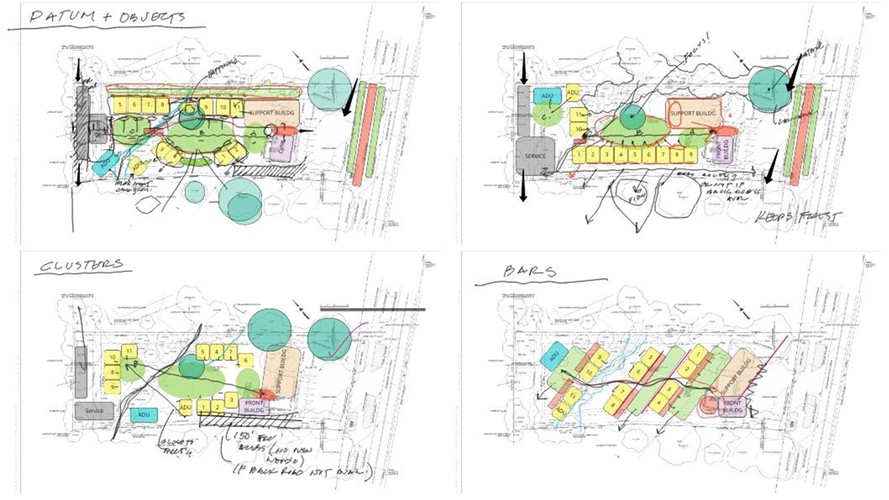 Additional design considerations include using materiality to create a design that stresses good environmental stewardship and "blending in" with the community context. Individuals with I/DD can experience heightened sensitivity to a variety of environmental factors, including visual, thermal, auditory, social, and chemical sensitivities. They require healthy, calming, safe, and durable environments. To address these requirements, the design called for no-VOC paints and sealers, durable surfaces such as impact-resistant drywall, solid wood exterior cladding, and concrete finished floors.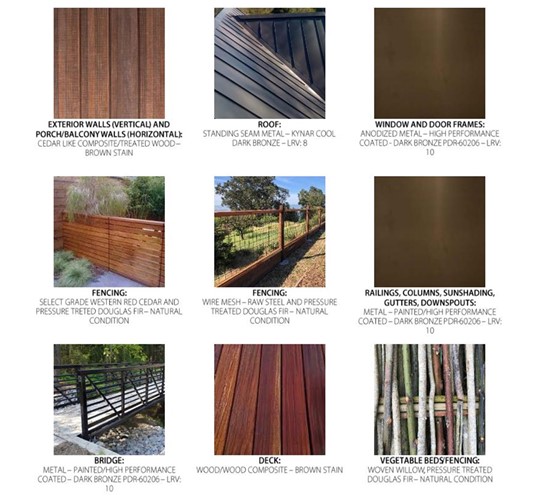 Overall, the design recognizes the specific needs of the I/DD population and always refers back to the planning model to inform decisions. The architecture of this project aims to conserve the local area's rural character while providing attractive, tranquil residence and support spaces.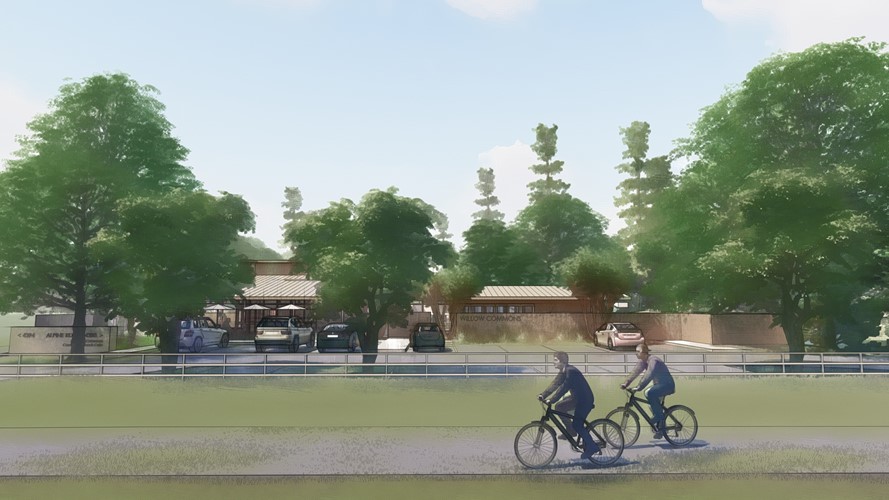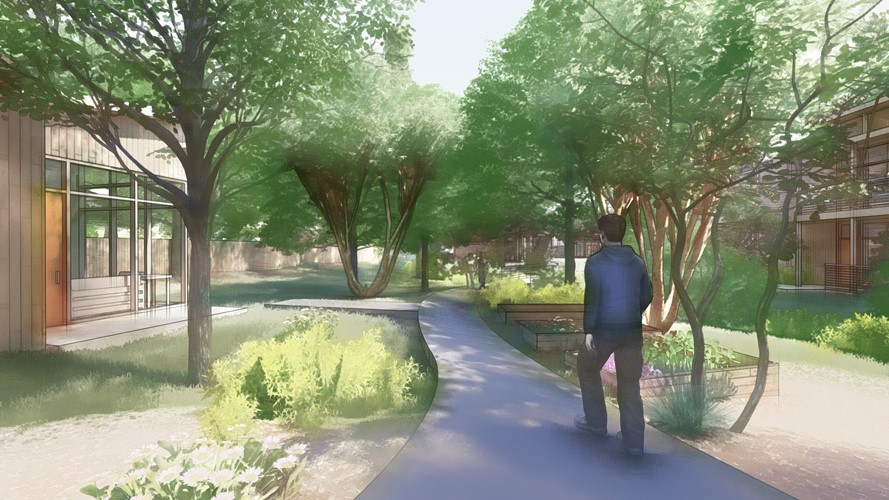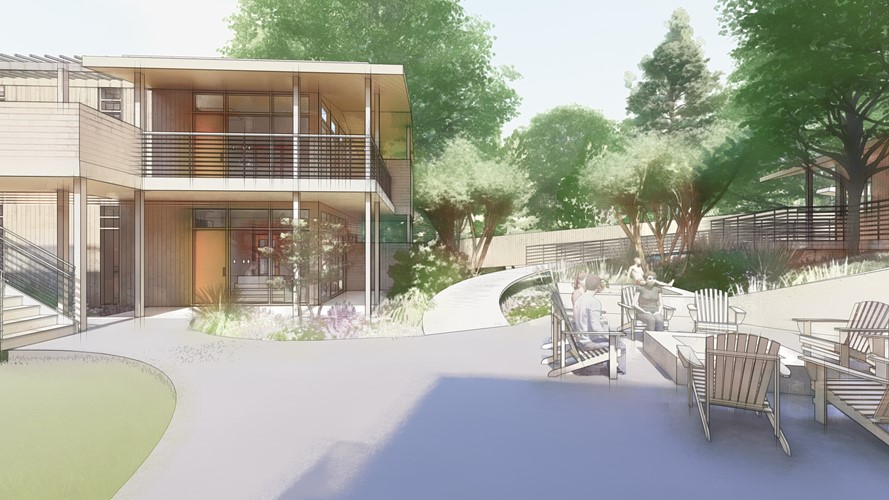 If you have any questions regarding the framework in general or how to apply this framework to a particular I/DD housing project, please feel free reach out to me at daniel@aba-arch.com.
About Daniel Ho
Dan is a multi-disciplinary creative that strives to discover and practice new within his work in ABA's Strategic Planning and Architecture service area. His vision of creating more sustainable communities through socially responsible and inclusive design drives his passion for art and architecture.
"Best Practices: Planning & Designing Housing for Individuals with Autism/DD" was presented by Daniel Ho at the SFASA-Stanford Conference on Adult Autism/DD:⁠ https://med.stanford.edu/autismcenter/events/fallautismconference.html