Written by: Katherine Masleid-Rivard
---
TRANSPARENCY. ENGAGEMENT. VALUE.
More than buzz words, these are real concerns for any public project and ignoring them can create costly road blocks and detours. I've seen neglected stakeholders bring a project to a grinding halt; community members wondering if their leadership is even listening; and countless resources wasted on ineffective meetings. Effective engagement is critical to project success and this series walks through how to do that.
While success at these goals may seem elusive, there are key steps and questions you can use to create a clear path forward. I'll walk through specific areas and the questions I ask to help achieve these goals in these five posts:
At the end of this five-part series, you should be able to:
Develop a clear strategy for smooth and effective engagement
Communicate engagement goals and expectations clearly
Setup a process for effective decision making
Make sure you've read Part 1, 2, 3 and 4 of this Effective Engagement series.

---


Part Five: Making it Real – Documenting and Communicating your Plan
Now, it is time to put all this strategic thinking into action. Once you have answered all these questions, you are ready to create your process plan; a document that will guide your process step-by-step.
Your process plan will lay out what you hope to achieve. It will clearly articulate who will be involved, how, and when – and the key steps in getting there.
A documented process plan should stand on its own and should make regular appearances throughout the process. In the beginning, be sure to validate it with your Core Team and Critical Stakeholders.
By sharing it frequently, you'll keep everyone on the same page and get advanced warning when a key step or participant might be missing. With this heads-up you can proactively adjust the process and avoid costly rework.
At ABA, this information culminates in a process map, but whatever your process plan looks like, you now have a way to communicate your plan to stakeholders. This will enable transparency and trust in both the process and the outcome.
Process planning is an art, but with some thought and the right questions you'll find greater success and better position those elusive goals within reach.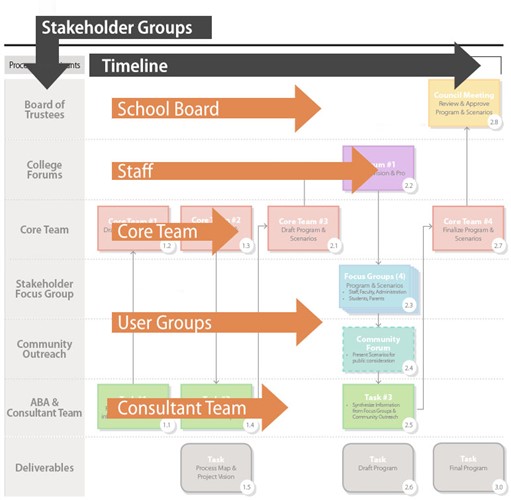 Key takeaways:
Effective engagement needs documentation and communication. Write down your plan so that you can easily share it with others.
Effective engagement is not random or some combination of the right buzz words. To achieve the transparency and value required, you need to ask key questions. By asking these questions, you can avoid roadblocks and acquire advocates instead of enemies. We've walked through these questions together along with strategies on how to answer them. So now that you've read this series, you should be able to:
Develop a clear strategy for smooth and effective engagement
Communicate engagement goals and expectations clearly
Setup a process for effective decision making