San Jose, Calif., August 6, 2020 – Anderson Brulé Architects, Inc. (ABA) recently completed three distinctive planning and design projects throughout California's Bay Area and Central Coast: El Gabilan Library in Salinas, Monte Vista Christian Performing Arts Center in Watsonville, and Ohlone College's Academic Core Buildings in Fremont. Each multi-year project came with its own challenges that kept the ABA team inspired and responsive while working diligently to design each facility to meet the needs of each client and community. All three projects opened in 2020.
Nationally recognized for its community and education design expertise and facilitating the stakeholder engagement process, ABA provided each architectural project with planning, design and construction administration services, which included needs assessment, programming, jurisdiction coordination, development of a vision and mission, community outreach, and interior and full core design.
"We want our clients to feel confident that we understand their processes, aspirations, and the forces that affect their environments," said ABA Managing Partner Lee Salin, FAIA. "This is why our firm always focuses on the experience of our clients' client, so we continue to deliver quality, functional, community spaces such as these that instill a sense of pride and will be enjoyed for decades to come."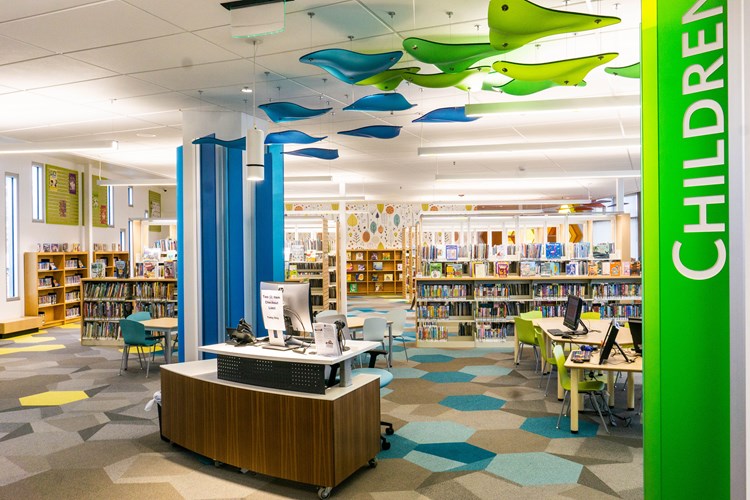 The children's area of El Gabilan Library was inspired by the elements needed for successful cultivation which include sunlight, water, healthy soil and pollinators.
In February 2020, the City of Salinas unveiled the new El Gabilan Library, delivered with a unique P3 – Public Private Partnership - financing strategy. The 20,800-sf facility includes children, teen, and adult collections, along with a collaborative makerspace, digital studio, study rooms, internet café, and a flexible community room. Welcoming outdoor spaces feature reading patios, lounging decks and an interactive-learning children's garden. The new library, as did the original, will remain a safe, accessible and inclusive community place for all ages – featuring a clean and classic exterior and a playful and colorful interior, which was custom designed to exemplify the heritage of Salinas.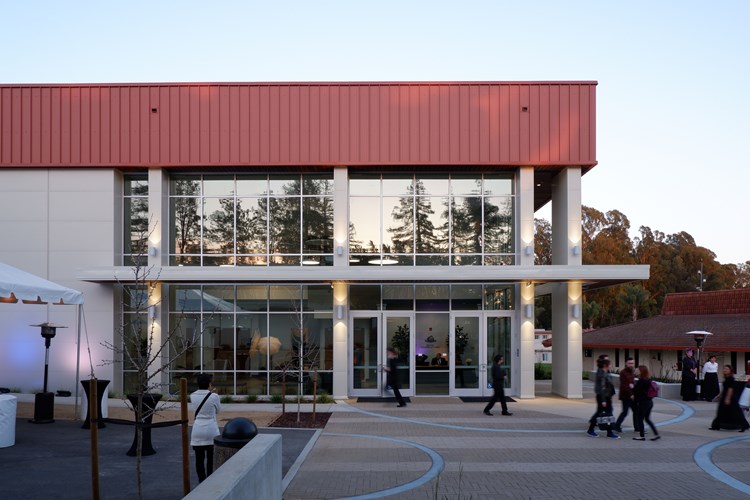 School patrons gather for the grand opening of Monte Vista Christian's Performing Arts Chapel.

The Don Price Performing Arts Chapel at the Monte Vista Christian School is a 16,000-sf, multi-functional space that is intended to serve the school and it's creative and talented thespians and musicians. After taking the time to learn and understand their client's needs, ABA and building partner, Bogard Construction, utilized the intrinsic efficiencies of design-build delivery to complete the design, obtain regulatory approval, and begin construction of the Performing Arts Center. ABA worked closely with the consultant team to design and document the building's specific components to ensure the best and most practical long-term use of the space for all students, ultimately producing creative building solutions resulting in the sensational space that it is, today.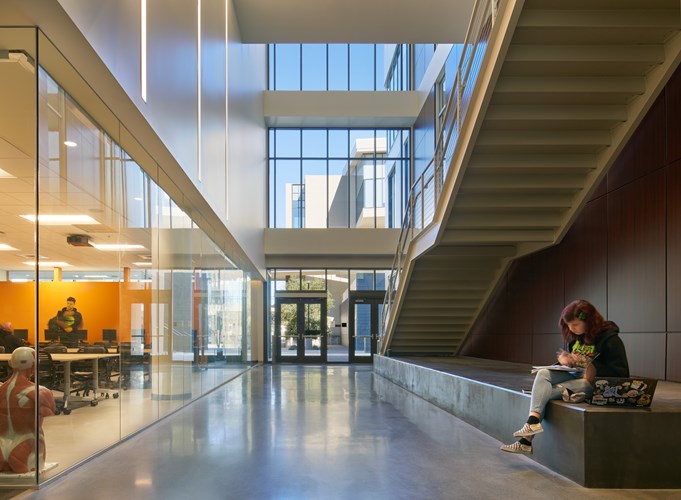 A student sits under the stairs across the tutoring center in the Science building of Ohlone College.
As the largest of the three projects, ABA designed a strategic process to successfully guide the award-winning Ohlone Academic Core Buildings project from master plan through to design. Totaling a combined 185,000-sf, ABA served as the associate architect for the Science Center, Music and Visual Arts Building, and Learning Commons-Library meant to collectively serve as an educational hub in the heart of the Ohlone Community College Fremont campus. ABA led the facilitation of governance bodies, focus groups of specialty areas, user groups and academic leadership to build a common vision and direction for the master plan and academic model - bringing together formal and informal learning, tutorial, learning centers, and formal academic classrooms. ABA and design partner, Cannon Design, have provided the diverse student body with the collective space to hone and develop their skills.
"We are grateful to have worked with such incredible strategic partners on the El Gabilan Library, Monte Vista Christian School, and Ohlone College projects," continued Salin. "It is through the work of the collective minds and group efforts that spaces with the greatest community impact and benefit come to fruition."
About Anderson Brulé Architects, Inc.
ABA was founded in 1984 in San Jose, bringing over three decades of experience and passion for architecture, innovation in design and a commitment to the transformation of the architectural profession. ABA provides a complete and comprehensive suite of services in strategic planning, architecture and interiors. ABA delivers client excellence on projects both in the large scale and mid-sized arena and operates within its primary markets of Community, Residential, Health and Wellness, and Education to create sustainable environmental models and spaces. To learn more about ABA, visit: http://aba-arch.com.
###
Media Contact:
Kara Schmiemann-McCoy / Melinda Hepp
Studio PR
570-441-4793 / 415-717-4624
kara@studiopr.com / melinda@studiopr.com