Written by: Pamela Anderson-Brulé, FAIA
---
I have spent over 30 years working with librarians that have led their own transformation and I am amazed how they have 'risen to the call' to broaden their skills to serve the community in an entirely profound way. Their leadership in using powerful data to show compelling reasons that libraries impact and improve their communities have allowed them to inspire communities to invest in new libraries and services. Their dedication and passion to serve the community with what is most needed are why I have spent a career learning all that I can about what is important to librarians and what I can do to design places that support their success.

The following is the second article in a 3-part series to share what others are doing to respond to the pandemic and to continue delivery of service, what architects can do to support librarian's success and considerations to plan for the future. This series will cover:
Part 3: Spaces & Experiences
---


Part 2: Operations & Protocol
Library operations and protocols will be forever changed by the pandemic, and the belief that libraries must be prepared to provide services during various crisis scenarios, whether as a cooling center during a heat wave, a shelter during a storm, a safe voting center, a respite for the disenfranchised or a hub of information during a pandemic.
In order to be responsive to every changing environment and demand, libraries must rethink the design of staff space, indoor and outdoor gathering, socialization and community events, and the day-to-day functions of their facilities. Although patrons' safety is paramount, staff occupy facilities daily and their exposure is increased exponentially.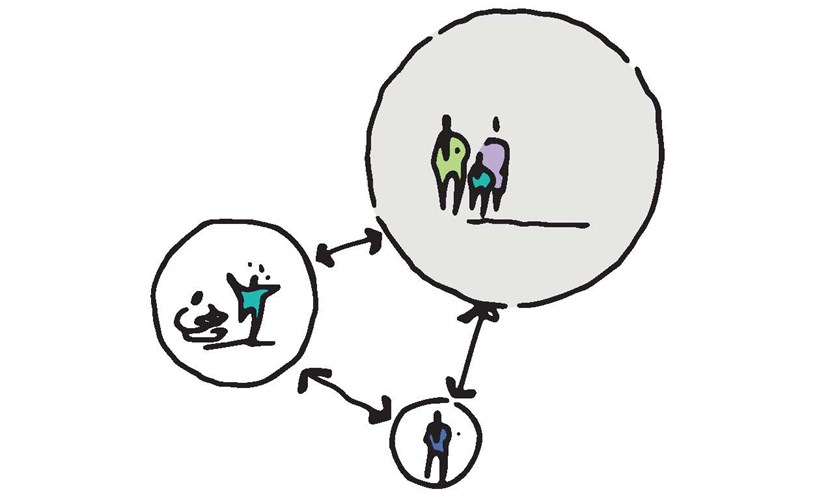 Staff Safety
Librarians are deeply concerned for their own safety in their work environments and each jurisdiction is responding differently to the pandemic, clear and consistent information and protocols are sometimes hard to find. This lack of clarity creates fear, mistrust, and anxiety within the world of library staff.
Having clear expectations and protocol around library operations is key to managing administrators' expectations and demands as well as leading a well-planned and safe reopening of any library.
Librarians have successfully developed new services and programs that not only serve the community, but limit in-person contact. Services include online children's programs, curb-side pick-up, virtual book clubs, and educational material distribution through partner organizations.
As the economy has caused cuts to library budgets across the country, staffing has been reduced and expectations have grown to maintain hybrid and in-person services.
Libraries should consider appropriate levels of hybrid work, so that services that can be delivered effectively from a work-from-home setting going forward. This could allow staff who are higher risk or need schedule flexibility to continue to provide on-line services, where appropriate. Alternating schedules should also be considered to reduce staff overlap, create traceable safety pods, and reduce individual exposure. This could also reduce the staff required within the library facility at any one time and allow staff work zones to be spread out and separated safely for appropriate social distancing. For libraries that have group study rooms, these spaces could be temporarily transformed into private offices to further separate staff into safety zones.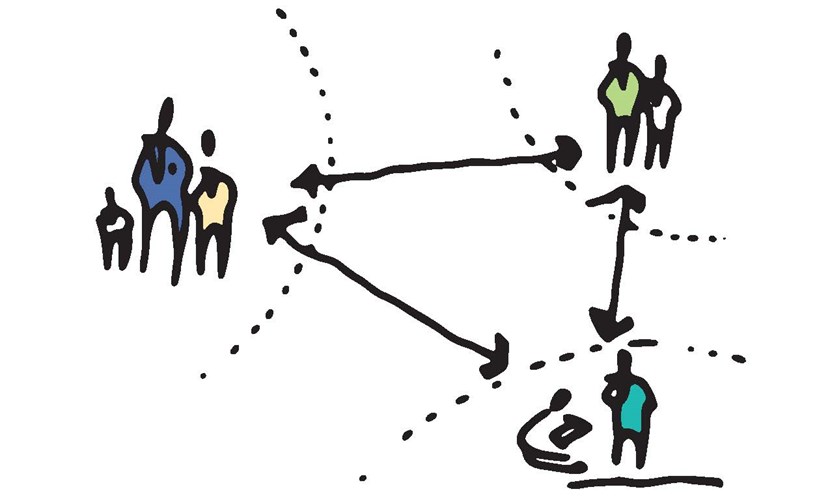 Safer Facilities
Developing protocol for building entry that is clear and simple should improve the user experience and reduce the staff needed to 'police' patrons. Requiring masks, providing sanitation stations at library entries to wash or sanitize hands, creating hands-free fixtures and equipment, indicating a clearly marked a one-way circulation flow through the library, eliminating furniture and fixtures that do not support social distancing, and reducing the number of patrons in the library at any one time are effective methods to reduce risk.
Appointment Access: Some libraries are establishing a reservation system that allow an appropriate number of patrons to come into the library and use the facilities under relatively normal conditions. Patrons can browse for books, use the computers, sit and read, and generally choose their experience.
Family members may use the library and develop safety pod zones, allowing parents to sit with their children in a separate area from another family, or family members may sit at the same table or grouped in chairs.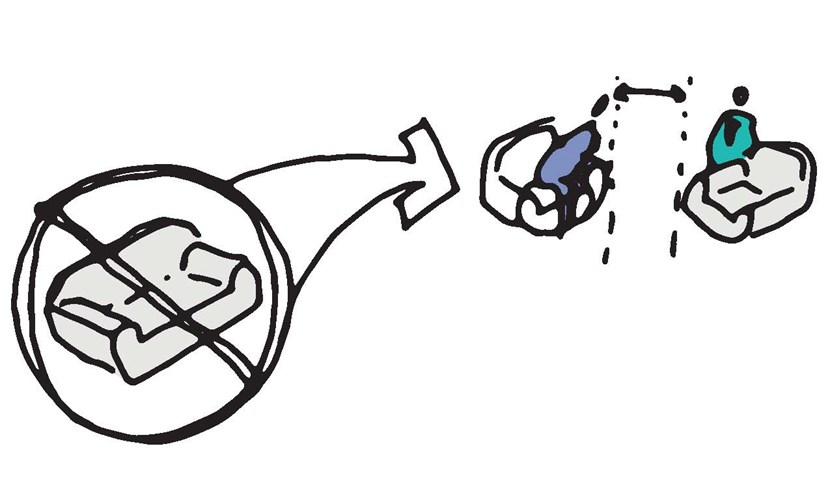 Browsed collections can be placed into quarantine bins and moved into a selected area (conference room, community room etc.) as a temporary quarantine area prior to being re-shelved or checked out. Once a computer is selected, materials to sanitize prior to and after use are available and some libraries are using removeable keypad covers and changing after each use. Reservation periods are set for a few hours, the library is then vacated, cleaned and then reopen for the next user group.
HVAC: A key operational need is to design or modify building systems to provide cleaner and safer environments for staff and patrons. For existing libraries, all air filters should be replaced with higher efficiency filters if the fan systems can handle the additional pressure drop. Existing zonal systems that are not essential to comfort and only recirculate air (such as ceiling fans) should be disabled. Ensure that mechanical systems are running fully at least one hour prior to opening and flush the system for a minimum of an hour after the library is closed and be sure that systems are running throughout the day.
Set controls to trigger higher ventilation and increase outside air to additional 30% beyond code requirements. To ensure that systems are appropriately functioning, it is good to hire a commissioning agent or air balancer. The system can be reviewed for appropriate ventilation as well as energy usage. It is important to have systems both operational and certified for appropriate ventilation rates prior to opening.
Restrooms: When considering existing restroom use or the design for new restrooms, maximizing a hands-free environment is paramount. Touchless fixtures can be standardized. High volume air hand dryers should be eliminated as they spread air born viruses and replaced with hands-free paper towel dispensers. Locating trash receptacles near the exit will allow users to wash hands, use the paper towels to open the door (if not hands free) and then dispose of the paper towel. Establishing a line for entry with users standing at appropriate social distance prior to entry to a restroom can help overlapping of patrons. Gender neutral restrooms may be considered where the design allows for this option.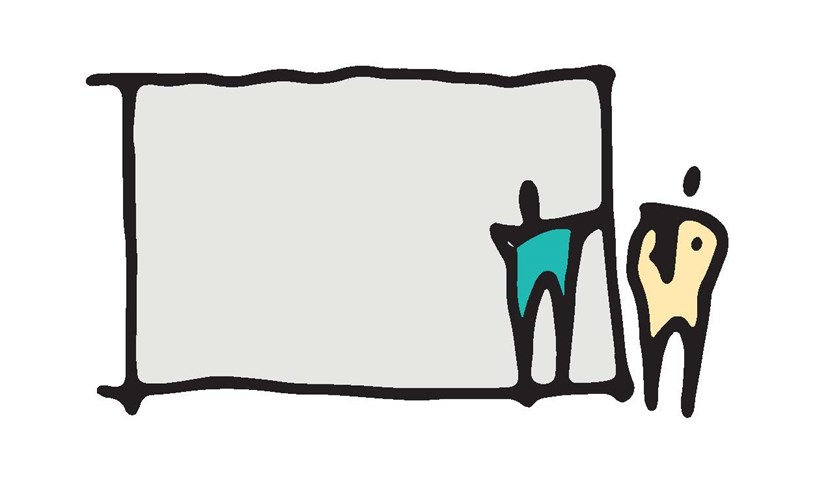 Reopening
As libraries reopen, having a stepped plan is very important to allow staff time to test, adjust, and try different solutions. Levels of service, based on health department recommendations, may step up or down depending on infection levels in any community. Ryan Baker, Director of the Town of Los Gatos Library, has developed and shared a "Pandemic Operational Levels Decision Tree," that guides a stepped approach to service levels and operations for any library. Most libraries today have adapted to mobile services, but many have not planned for reopening or do not have a clear strategy for staff and patron safety. A detailed plan is very important to ensure safety for all.
Key Takeaways:
Work with City and County Administrators to take appropriate measures prior to opening public libraries and establish criteria for staff and patron safety.
Develop staff work areas that create safety zones for each staff member.
Develop pandemic protocol for staff and patrons.
Protocols should consider the quarantine of books, limiting number of patrons, zoning library for specific uses, reserving library use times and having cleaning periods between use.
Remove furniture that should not be used during the pandemic to achieve social distancing.
Air quality and air flow are critical to library safety, take steps to meet appropriate environmental conditions.
Consider restroom design implications during the pandemic.
Consider 'stepped' opening levels to allow protocol development and adoption, as infection rates vary by region.
In my next post we will review the considerations for Spaces & Experiences which may make library openings more viable.